Weekly news + a great commentary from Wm Newell on the lawlessness in our cities
IT'S NEWS TO ME

Screenshot: Julio Rosas, Townhall Media
SETTING OUR MINDS ON THINGS ABOVE
When Lawlessness Reigns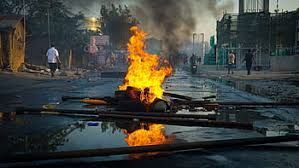 As I have been studying William R. Newell's commentary on the book of Romans, I have found his comments regarding Chapter 13 most interesting in light of the flaunted lawlessness we are witnessing in many of our nation's cities. Keep in mind that he wrote this sometime prior to 1956. Here are a few of his comments on verse 1:
Let every soul be in subjection to the authorities in power. For there is no authority except from God; and those that exist are put in place by God.
We have here a passage of great importance in these lawless days!
The authorities in power are the civil authorities ordained of God into whose hands God has committed external human government. (We say external, as opposed to inward, spiritual, which lies outside Caesar's province.) To be in subjection to the higher powers, means to render them their due respect and obedience according to verse 7: tribute to whom tribute, etc.
Lawlessness literally means contempt for authority, and it is upon us like a flood. This lawlessness is the essence of sin and is literally the spirit of refusing control. Lawlessness is behind and below all law-breaking!
The lawlessness of the last days is seen everywhere! In the contempt of treaty obligations on the part of nations; in the disregard for old-time honesty in private contracts; in the "breaking loose" of "flaming youth" from parental restraint, and the rush to "expressionism," whether in school "dramatics" or in disdain of "outdated" morals; in the calling the sin of lasciviousness and adultery by euphemisms like sleeping together in the flood of murder in movies and novels, and the public's growing acceptance of the most disgusting and bizarre practices.
It is because of all this that law-enforcement breaks down. For, on the whole, judges, prosecuting attorneys, sheriffs, and police, would have criminals dealt with firmly: but the "technicalities" of legal procedure are seized upon by evil, unscrupulous men to defeat law. The community as a whole has tacitly accepted the law-breaking that typifies them.
God's Word defends the rights of property, just as the right to life. Today's lawlessness covets what it has not earned! No wonder Marx and Lenin and the Communists hate the Bible! It convicts them of covetousness and thievery! The communism and socialism being peddled today appeals to those who embrace lawlessness (sin) and hate God.
ON THE LIGHTER SIDE
The secret of getting ahead is getting started.
Mark Twain
ATTRIBUTIONS
Inclusion of photographs and/or images in no way implies the endorsement of this blog or its information by the photographer or designer.