This week's news + what it means to be holy and blameless before Christ (Eph. 1:3-4)
IT'S NEWS TO ME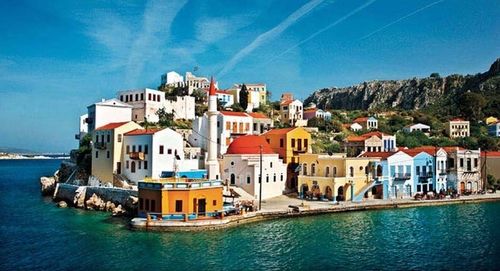 The remote Greek island of Kastelorizo, including the renovated eighteenth-century mosque.

(I suggest you print this and read at your leisure)
SETTING OUR MINDS ON THINGS ABOVE
Before Him
After my recent revelations regarding communion and how a typical Galilean wedding pictured the Church and its transition to the Bride of Christ, a simple two-word phrase in the beginning of Ephesians came to life as never before: Blessed be the God and Father of our Lord Jesus Christ, who has blessed us with every spiritual blessing in the heavenly places in Christ, just as He chose us in Him before the foundation of the world that we should be holy and blameless before Him in love (Eph. 1:3-4).
"Before Him" refers to an actual specific time when we, as His Bride, will stand before Him as He presents us to Himself as His holy and pure Bride, radiant and meeting all the Father's standards of holiness and purity, without spot or wrinkle (Eph. 5:27). Christ has done everything necessary to purify us (Eph. 5:26). Our Heavenly Father chose us that we would be holy and blameless. Our purity means everything to all three members of the Trinity. The moment when Christ presents us to Himself at our heavenly wedding is the moment all creation has been anticipating for all of history. Our purity is essential.
In Paul's second letter to the church at Corinth, he stressed how hard he had worked with them so they would see themselves, not only as part of the Body of Christ, but also as His bride. As such, they must do everything in their power to stay pure. He expressed his godly jealousy for them that they would remain loyal to Christ alone. He, as an apostle, held himself responsible, for bringing about their betrothal to Christ (2 Cor. 11:2). As this letter has become part of Scripture, the same applies to us.
This is where the "before Him" comes in. Christ has done His part to purify us by the washing of water with the Word (Eph. 3:26). It's up to us to do ours by allowing the Word to do its cleansing work in us. Our daily walk must reflect the purity our Bridegroom has already given us when He gave us Himself as our life. It's His purity that we are to display on a regular basis. Yes, we will fail. As long as the flesh resides within us, it will win from time to time. But God promises that if we confess our sins, He is faithful and righteous not only to forgive us, but to cleans us of all unrighteousness, restoring His purity within us.
We miss the bigger picture is we confess our sins just to be forgiven. God's greater purpose is that we be a pure bride when Christ presents us to Himself at our heavenly wedding. We are already betrothed to Him as those in the church at Corinth were. We accepted Christ's proposal when we accepted His covenant with us as we accepted His cup and drank from it at communion. We are legally His Bride, but we must wait until we are raptured for the official wedding ceremony where our union with Him is sealed and confirmed forever, allowing us to live, rule, and reign with Him forever. In the meantime, we must act like the pure bride He has made us to be. A holy life isn't optional.
ON THE LIGHTER SIDE
 Which knight at King Arthur's Round Table was always snooping on the others?
Sir Valence
ATTRIBUTIONS
Inclusion of photographs and/or images in no way implies the endorsement of this blog or its information by the photographer or designer.