This week's news + what Christ's letter to the church at Pergamum (Rev. 2) reveals about the state of the church today
IT'S NEWS TO ME
SETTING OUR MINDS ON THINGS ABOVE
The Church as seen in Revelation
Pergamum – The Rise of the Papacy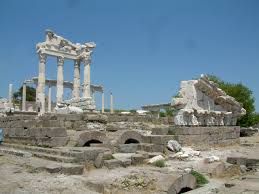 Ruins at Pergamum
In our examination of the changing spiritual conditions of the Church throughout the Church age, having looked at Ephesus and Smyrna, we come to the church at Pergamum. The Word of Christ comes to judge the evil He sees there.
What Satan had been unable to destroy, He would now defile by switching from persecution to favor (as Constantine embraced Christianity in 313 A.D.)
Satan, as the prince of this world, apparently established his earthly capital right there in Pergamum. Its residents considered themselves the chief temple keepers of Asia. Satan's cache of weapons against God were in full display there. If the heathen world had a capital, this was it. Everything wicked that was once entrenched in Babylon found a haven at Pergamum including the Babylonian cult of the Magicians. Its chief magician had the title of "Chief Bridge Builder," meaning the one who spans the gap between mortals and Satan. The Latin translation was "Pontifex Maximum." Let that sink in!
Despite all the Satanic influence and the prevailing emperor-worship, the believers at Pergamum hadn't denied their Lord or their faith, even when one of their own had been killed. Yet, evil was now being tolerated. Satan had snared this church into idolatry and fornication. They were feasting in the temples of idols. It was common practice for believers to buy those things that had been offered to idols (1 Cor. 10:25). In Pergamum, however, while the saints were drinking the "cup of the Lord," they were also drinking the "cup of demons," provoking the Lord to jealousy (1 Cor. 10:22).
Included in Christ's condemnation was the tolerated practice of the "Nicolaitans" whose name is derived from two Greek words meaning "to conquer" and "people." The literal meaning was "rulers of the laity." In the town where one of the pagan ruler's title was Pontifex Maximus, a priestly caste was being formed, modeled after the priests and Levites in Judaism.
The deeper the evil, the more difficult it is
to recognize it for what it is.
Therefore, Christ begs those engaging in wickedness to repent, or He will pay them a visit and judge them with His Word. Our Lord once again exhorts all the churches throughout the church age to hear His words of warning. Those who overcome were promised Christ's hidden provisions, things beyond what they could now grasp, as well as a white stone engraved with their new name. This seems to speak of the special relationship Christ has with each member of His Church. We are His sheep and He calls us each by name (John 10:3). Perhaps He has named us according to what He sees in us, much like those in Jesus' day on earth (Acts 4:36). He knows every trait, quirk, tendency, personal struggle, and every victory. What would you like for your new name to be?
Can you see how this church represents the beginning of a special class of clergy? Can you see what this has become and how our world has not only tolerated it, but embraced it? The special priestly class is revered by millions, nearly all convinced they are right in the center of God's will, blindly playing a deadly game of follow the leader. Can you also see Satan at work attacking our weakness and disguising Himself as an angel of light throughout church history? We must not be blind to what Christ may be saying to each of today's churches through our current pandemic. This could be our last warning to make right what we have polluted or desecrated. This is serious business. If we simply return to business as usual when the threat is gone, we do so at great risk. Stay tuned.
Click here for the next articles in this series.
ON THE LIGHTER SIDE

 ATTRIBUTIONS
Inclusion of photographs and/or images in no way implies the endorsement of this blog or its information by the photographer or designer.